Tuesday, 16 November 2021
Is your aerial fertiliser application as precise as you think?
When it comes to aerial fertiliser spreading, not all solutions are created equal. In fact, the claims around precision can be exaggerated. How precise is precise? How can I be sure that my fertiliser is going where I really want it to go? How do I know the right rate is being spread at the right time?
In the context of aerial spreading, precision agriculture means delivering the right rate of fertiliser in the right place at the right time. Variable rate application technology is desirable on hill country farms as production varies depending on slope, aspect, elevation, topsoil depth, nutrient status, moisture, and temperature. Traditional spreading technologies are not always precise, meaning the risk of wasting valuable fertiliser is high, and sensitive areas such as waterbodies may be inadvertently affected.
What is IntelliSpread®, and how does it work?
To combat this issue, Ravensdown employs fixed or variable rate fertiliser application driven from a GPS mapping system known as IntelliSpread. Precise rate control depends on a number of things: the aircraft's response to boundary rate changes, aircraft GPS accuracy, aircraft speed, rate controller speed through AccuRate, wind direction, wind speed and the particle ballistics that determine the deposition of fertiliser. Rapid responses to boundary rate changes improve fertiliser placement accuracy and avoid off-target application near environmentally sensitive areas.  For Ravensdown's farmer shareholders, IntelliSpread offers improved production efficiency and also ensures the fertiliser is going where it is most needed at the requested rate. In fact, Massey University's recent trial work1 on the IntelliSpread unit's precision recorded a rate transition zone between 15 - 20m, meaning a much smaller area of land receives a transitional rate and much more land gets what it needs (see Figure 1 below).  The Massey field validation shows that IntelliSpread is now the most precise spreading technology available in the market and continues to inform Hawkeye of different areas top-dressed and avoided, helping to capture nutrient records demonstrating compliance.
The benefits of this precision are threefold:
Fertiliser placement accuracy
Enabling the right rate at the right time with AccuRate Rapid Hopper Control and Dynamic Flow Monitoring
Technology that equates to more productive land and avoids sensitive areas, leading to a better bottom line and improved environmental outcomes.
Figure 1: IntelliSpread's precision unit operates at a much faster rate which means less land area receives a transitional spreading rate (left) compared to a competitor variable rate technology (right).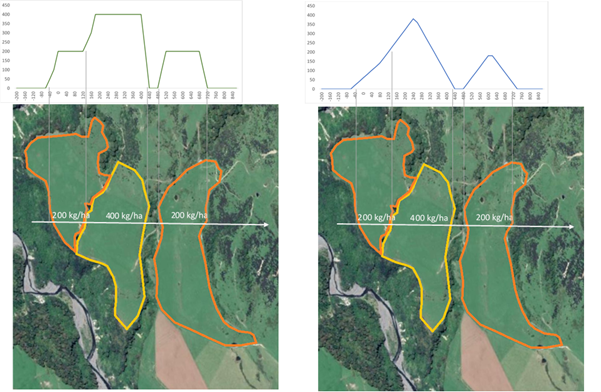 Five of the 12 Cresco aircraft that Ravensdown Aerowork operates have now been fitted with the IntelliSpread technology, with work ongoing to fit out the remaining aircraft in line with Aerowork's scheduled maintenance programme.
Combining IntelliSpread with HawkEye® mapping
 Further efficiencies can be made when IntelliSpread is combined with HawkEye, Ravensdown's farm mapping system. HawkEye maps allow farmers to identify and record productive, non-productive, and environmentally sensitive areas across their farms. These unique farm features upload seamlessly into the IntelliSpread system, which means the avoidance areas marked on the map will be automatically avoided as the pilot flies over them.
IntelliSpread is a powerful solution, and when combined with Ravensdown-quality fertilisers and the easy-to-use HawkEye mapping system, IntelliSpread becomes an even smarter tool to ensure your fertiliser spread is working for you.
Pricing is quoted on a volume-based price structure via Aerowork. Call the customer centre 0800 237 696 or your agri manager.
Miles C. E. Grafton, Matthew E. Irwin & Eduardo A. Sandoval-Cruz (2021): Measuring the response of variable bulk solid fertiliser application by computer-controlled delivery from aircraft, New Zealand Journal of Agricultural Research, DOI:10.1080/00288233.2021.1936573