Monday, 20 February 2017
New Zealand Dairy Industry Awards 2017
The New Zealand Dairy Industry Awards Regional Awards Dinners have concluded. Now all eyes turn to Sky City where, on 6 May, the National Awards Dinner will take place.
Here are some of the ways that we have been involved.
Ravensdown Relief Milking Fund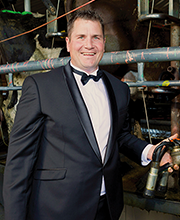 Getting our industry champions to the big smoke
The hard part is done, now it's our turn to help the Share Farmer of the Year finalists raise the bar at the national awards! We are giving $1000 for a relief milker, to take some pressure off, while they ready themselves for the national Share Farmer of the Year title.
Finalists can access the funds at any stage leading up to, or during, the national awards in Auckland by calling the regional NZDIA Committee Chair to arrange for the funds to be released.
Ravensdown Pasture Performance Award
Choose the $1500 regional prize package that best suits your needs
Winners of each regional Ravensdown Pasture Performance Award can choose from an Environmental, Agronomy, or Animal Health package. Each package is tailored specifically to the winners needs and includes products, services, and consultation to the value of $1500.