Tuesday, 13 March 2018
New Zealand Dairy Industry Awards 2018
The New Zealand Dairy Industry Awards Regional Awards Dinners are almost over. Now all eyes turn to the National Awards Dinner in Invercargill on 12 May.
As a National sponsor, we enjoy getting behind our industry champions and helping them get the most out of the awards!
Ravensdown Relief Milking Fund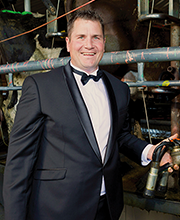 Getting our industry champions to the National Awards Dinner
We help the Share Farmer of the Year finalists get to the National Awards by giving each regional Share Farmer of the Year $1000 o hire a relief milker, to take some pressure off, so they can ready themselves for the national Share Farmer of the Year title.
Finalists can access the funds at any stage leading up to, or during, the national awards in Invercargill by calling the regional NZDIA Committee Chair to arrange for the funds to be released.
Ravensdown Awards
Ravensdown Pasture Performance Award – Pasture is fundamental to any dairy farm operation, which is why this award holds significant weighting in the Share Farmer competition.
Winners of each Ravensdown Award can choose from an Environmental, Agronomy, Animal Health or Development package. Each package is tailored specifically to the winner's needs including products, services, and consultation.